Dekalb County … grrrrr ….
SO 4 years ago, I drove to the Georgia Power office in South Dekalb mall to pay my bill. Decided since it was closing time … I'd park behind that Cadillac right there in the fire lane, run in put the check in the drop box, hop back in the car zoom zoom zoom – GRAND IDEA – right? WRONG. After I dropped the check off – hopped back in my car, proceeding to turn the key "chigga chigga chigga"…it wouldn't turn over… "chigga chigga chigga" still wouldn't turn over… Oh no, the mall rent a cop came up behind me and gave me a warning to move it or get a ticket. Told him it wouldn't start… I would keep trying. Called for a tow truck "it's Friday – it'll be awhile"… Long story short I got a ticket … Paid the ticket … 4 years later … I get this: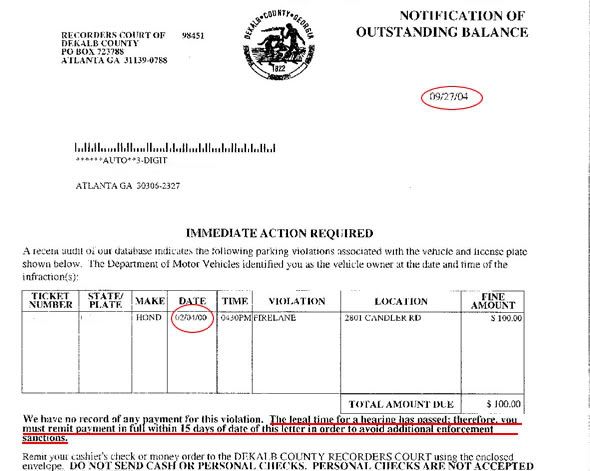 Um Kendall … you owe us money …pay up or ELSE!!!
Now, as I prepare to move … I've got to find proof of payment or pad Vernon's pockets a little more … what to do …what to do???